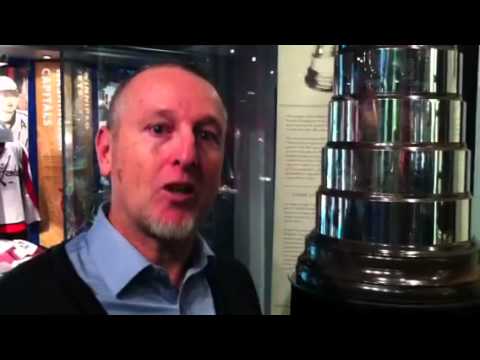 There is in the Hockey Hall of Fame a trophy called the Turner Cup.
When you won the championship of the old International Hockey League, they gave you the Turner Cup. It looks a bit like the Stanley Cup with a bowl on top and bands widening from top to bottom.
There was a bid to restore a new version of the IHL a few years back but that petered out. The Turner Cup is now back where it belongs, a mass of silver in a building full of it.
And yet…
His name was Joe Turner. He was from Windsor and he was supposed to be the next great Detroit Red Wings goalie.  Joe played a year with the Wings top farm team, the Indianapolis Capitals and got into one NHL game in 1942 against the Maple Leafs when Detroit's regular goalie, Johnny Mowers, missed a game with an injury.
There were 8,000 fans at the old Olympia in Detroit. Turner gave up two first-period goals but he stopped Leafs gunner Gordie Drillon on a breakaway to preserve the win.
Joe volunteered for the U.S. army and a German shell found him in December of 1944. There would only ever be the one game.
Joe Turner was one of Canadians 50,000 killed in the Second World War and they buried what they could where he fell. Number one for the Indianapolis Capitals became X-5439 and it took 30 months to bring Joe back to Windsor.
They named the championship trophy for him but Joe had no kids; he was freshly married when he crossed the sea. His parents died a few years later. His wife is believed to be long gone.
The trail ends for Joe Turner at the Hall with a trophy that is no longer awarded for a league that no longer exists.
There are no fresh faces for long ago wars.  About fifteen percent of the one million Canadians and Newfoundlanders who served in the Second World War are left.
Joe Turner is hockey's unknown soldier.  Like a star that dies before its light reaches earth, the trophy glistens 68 years after the man was extinguished…lest we forget.