While the notion of standing in front of a net as a shot comes flying from Zdeno Chara seems insane to me, it also garners my utmost respect. One because I'd never do it and two because of the sheer fact that the game is literally in (or out) of their hands and that's a big responsibility. Soft goals, good goals, 'shouldn't have been' goals, 'he never would have stopped that' goals….it all comes down to the goaltending. As Jacques Plante put it…."Goaltender is a normal job. Sure! How would you like it if at your job, every time you made the slightest mistake a little red light went on over your head and 18,000 people stood up and screamed at you?"
Here in Toronto we've been lucky to have had some great goalies suit up for the blue and white over the years. And from the beatings early goaltenders Turk Broda and Johnny Bower took in their 30's and 40's to win many of this organization's Stanley Cups, to the quick reflexes of Felix "the Cat" Potvin and the impressive tandem that suits up today for the Leafs, it's Curtis Joseph or Cujo who is the focus of this week's Throwback Thursday.
March 24, 2009 at Air Canada Centre. In net for the Leafs is Martin Gerber, 12 games played, 6 wins, 5 losses, and…this game. With 57 seconds left in the 3rd period Gerber would be thrown out following an outburst after the equalizer was scored. Enter Cujo. A month shy of his 42nd birthday, the veteran netminder enters a 2-2 tie game with less than a minute in regulation against one of the league's most explosive offences, the Washington Capitals. Holding strong for the final minute of play and stopping 8 shots in the 5 minute overtime that would follow, the game was headed to a shoot-out.
Toronto would lead 1-0 until Washington's final shooter. That final shot would come from the blade of that season's Hart Trophy winner Alex Ovechkin. Now of course this story has a happy ending for Cujo and the Leafs as Ovie was stoned by a goaltender 18 years his senior.
Wait! It gets better…
Cujo would then be named that night's first star after 57 seconds in regulation, a 5 minute overtime and no goals allowed in the shootout.
What's your favourite Cujo memory? Who is your favourite Leafs goaltender of all-time?
Check out the video here…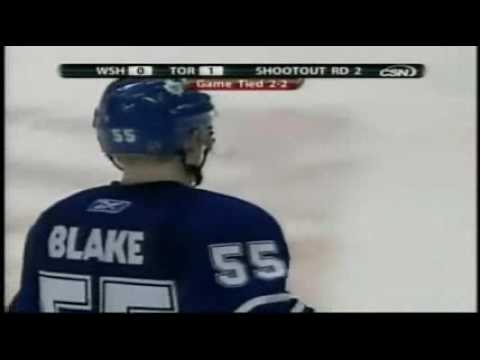 Mobile Users: Click Here to Watch Video