Number 60 in the program but number 1 in our hearts. Carlton the Bear is a staple at Leafs games and now in his 19th season he's as old as Leafs rookie Morgan Reilly. Starting his career at Maple Leaf Gardens, the address to which his name is derived, his career is marked with countless community appearances, hundreds of Leafs games, and thousands of autographs signed.
He also holds the record for most All-Star appearances since 1996 of any mascot across the league with 13. So let's go back to the 1996 All-Star game in Boston.
In the back row you can see Carlton the Bear alongside a previously orange Sabretooth resembling Tony the Tiger…they're greeeeeat. A penguin named Iceburgh from Pittsburgh our opponent this Saturday. Minuteman Mike, the Boston All-Star Mascot. SJ Sharkie from San Jose. Stanley C. Panther from Florida. NJ Devil.
In the front row Spartacat from our provincial rivals the Ottawa Senators. NYIsles, the former Islanders mascot. Thunderbug from the Tampa Bay Lightening.
While Carlton's looks may have changed over the years the spirit he has remains the same. He brings smiles and laughter and although his commanding 6 foot 6 inch stature does intimidate some he is most always embraced by the hugs of many fans big or small.
Through my time with the Leafs, Carlton and I have travelled to OHL games in Sudbury, Sault Ste. Marie, Peterborough, Belleville, and Mississauga. We've given out tickets, tossed t-shirts, and he's recored a few dozen strikes in slingshot bowling. Here's a few other highlights:
Crashed a wedding: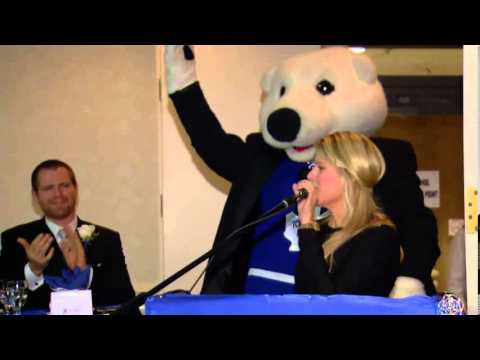 Snowball fight in Cochrane at the Tim Horton Museum: