The Hockey Hall of Fame Legends Game took place Sunday in front of a packed Air Canada Centre as fans were able to watch the 2012 Inductees, Mats Sundin, Adam Oates, Joe Sakic and Pavel Bure in game action after receiving their HHOF Honoured Members blazer and ring.
Mats Sundin was the last player introduced and he got a standing ovation from the adoring crowd as you will see in the video below: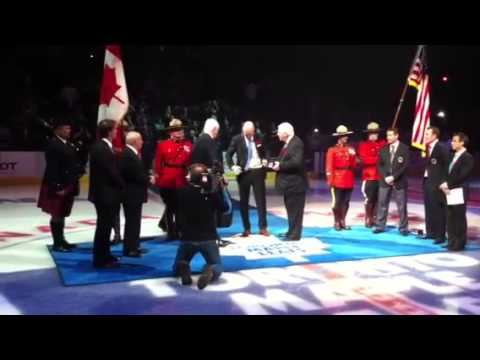 Sundin, Sakic, Oates and Bure post for a picture prior to the start of the Legends Game.
The game featured Team Gilmour vs. Team Trottier. As you will see in this photo, it was a Leafs' fans dream to see Dougie, CuJo and Wendel on the same team.
Sundin spoke with the media ahead of  the game and discussed what an honour this weekend is for him.
"There are so many great players that don't get elected right away to the Hockey Hall of Fame  so it was very special for me," Sundin said. "Toronto is my home, the Toronto Maple Leafs are in my heart and I'm very grateful."
The Hockey Hall of Fame blazer looks pretty good on number 13.