The town of Stirling was treated to an NHL alumni game Sunday at the Stirling & District Recreation Centre as the highlight of the first day of Kraft Hockeyville. There were 17 former NHL players on the ice along with Hockey Night In Canada's Ron MacLean plus several local residents. And a surprise visitor even made it but I'll tell you about that later.
Take a look at the photo below which lists the players, coaches, officials, trainers and more.
Prior to the game getting started I took a quick video of the arena which looked pristine.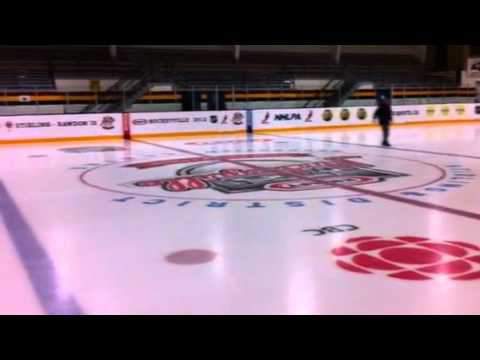 Kraft made a cheque presentation of $100,000 to the town of Stirling as part of the Kraft Hockeyville celebration. The town will use the money for upgrades to the Stirling & District Recreation Centre.
I got a good view as Team Rawdon took to the ice for pre-game warm up. You will notice a few former Leafs including Gary Leeman, Tom Fergus and Mike Pelyk.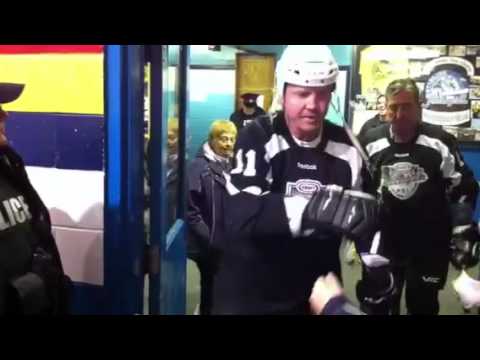 Inside the halls of the arena they have some great memorabilia of past teams, players and uniforms that teams had worn. Check it out in the photo below.

Throughout the day and at the game the town was selling raffle tickets with prizes varying from a signed Mario Lemieux jersey, a signed Kraft Hockeyville jersey featuring all the players from tonight's game and a Leafs Hockeyville jersey autographed by the Leafs alumni in the game.
Now as for the surprise visitor … the two biggest stars of the night were Don Cherry who made an appearance during the first intermission joining his cohort MacLean. Cherry and MacLean did a short version of Coach's Corner from the bench. It was a quick exit for Grapes but we did get a glimpse of him.

It was a long day for the town of Stirling but one that they will never forgot.
If you are wondering, Team Rawdon won 7-4 ove Team Stirling.