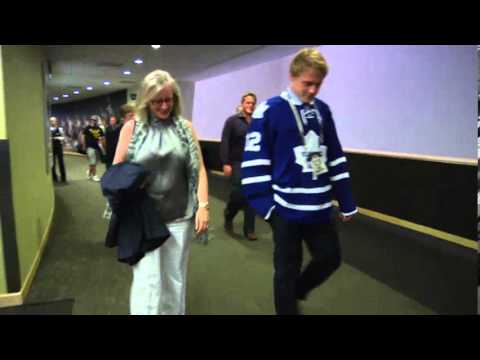 Behind The Draft lives behind the scenes.
The 30-minute special which airs Friday at 7 p.m. on Leafs TV is packed with candid never-before-seen moments from the 2012 draft in Pittsburgh that netted the Leafs heralded defenceman Morgan Rielly.
Current GM Dave Nonis chortles at the draft table while reading a tweet directed at Rielly by Leafs winger Joffrey Lupul: "Congrats Morgan Rielly on becoming a Maple Leaf. Look forward to playing w you. Now go get me some tape..#rookie."
Director of amateur scouting Dave Morrison reflects on the moment the Islanders, one pick ahead of Toronto at number four, select Edmonton Oil Kings defenceman Griffin Reinhart.
"The guy we coveted is obviously going to be there for us," Morrison said. "I know everyone at the table has got a little smile."
In another sequence, then GM Brian Burke is chatting with NHL commissioner Gary Bettman as the two wait for Rielly to reach the podium.
"Is that who you wanted," Bettman asks Burke.
"We had him first, first overall," Burke said.
"Awesome," says Bettman. "It's funny how things work out."
The draft also follows the fortunes of second-round pick Matthew Finn, fifth-rounder Dominic Toninato, sixth-rounders Connor Brown and Ryan Rupert and seventh-round pick Viktor Loov.
"One of the segments I liked most was the scene backstage where Matt Finn meets his family after he is drafted," said producer Nicole Burns. "It makes me tear up when his Mom hugs Matt and starts crying. He's a Toronto kid and for him to be drafted by the Maple Leafs was like a dream come true for the whole family."
While his story commands attention, Rielly is far from the show's singular focus.
"Carl Gunnarsson was a seventh-round draft choice so it's possible to play in the NHL regardless of where you were drafted," Burns said. "I wanted the viewer to know who Ryan Rupert was and why his story was worth telling as well."