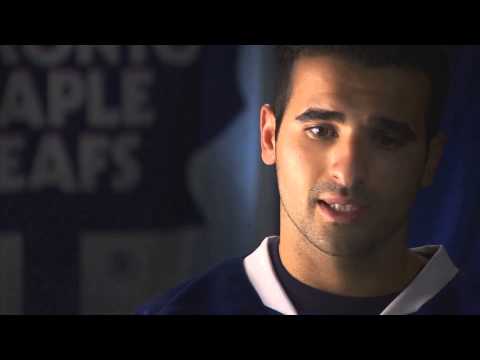 For a guy who makes a handsome living built on fractions of sentences, Nazem Kadri isn't a particularly patient guy.
Ask him about the one thing he would change about himself and the 23-year-old London native sites the need to be willing to wait.
"I would be more patient," Kadri said in his Five Questions feature. "I can get impatient and agitated sometimes. Sometimes I have to breathe and relax."
He is breathing pretty easily right now.
In the three games he has played with Phil Kessel and James van Riemsdyk Kadri has scored two goals assisted on three others and compiled a plus 5.
It took an injury to Tyler Bozak but at 23, Kadri is finally at the right place at the right time.
An excellent playmaker, Kadri has the gift of holding on to the puck for a fraction of a second longer than most as the play unfolds.
That knack, of course, has been a bit of a mixed blessing. His unwillingness to dump the puck deep in the offensive zone when he had no other play occasionally flummoxed then-Marlies coach Dallas Eakins and Leafs boss Randy Carlyle.
Former Leaf coach Pat Quinn once nicely put the temptation for skill players to occasionally err grievously with the puck in perspective. "Sometimes you paint a house," Quinn liked to say, "sometimes you paint a picture."
Kadri is engaging and talkative in a sport whose culture often values clichés. He was openly disconsolate when he was returned to the Knights as an 18-year-old and sent to the Marlies for two more years of seasoning.
If he straddles the line between confident and cocky it's the cocky side of the line. "I appreciate it when people tell me I can't do something," he was saying the other day." I just try to put it right back in their face. It definitely fuels the fire for me."
The fact that Kadri, Kessel and van Riemsdyk are the most adept passers among the forwards speaks to the creativity amply displayed when the three hit the ice. It's like an outfield with three natural centrefielders.
While his time spent in the minors prompted hand-wringing among Leaf watchers and even Saturday night oracle Don Cherry, Kadri has been remarkably consistent as a pro.
In 92 games as a Marlie, Kadri produced 81 points or .88 points a game. In his first season with meaningful NHL playing time, Kadri produced .90 points a game. He was dangerous in the post-season and registered four points and a plus 5 rating against Boston. He is plus 2 so far this season and has even marginally bumped up his faceoff percentage from 44.2 to 45.7.