With the NHL Draft just 48 hours away, a few of the NHL's top prospects met with the media on the shores of the Hudson River Friday afternoon.  This is an annual event and allows the prospects to speak just days before one of the biggest moments of their lives.
The town of Weehawken, New Jersey is just steps away from Hoboken where the TLC reality show 'Cake Boss' is filmed. Before hooking up with the prospects I stopped into Carlo's Bakery. I didn't see Buddy but the pastries were awesome!. We took a few photos which you can see in the video below.
Here's a short summary of our day at the bakery and with the prospects.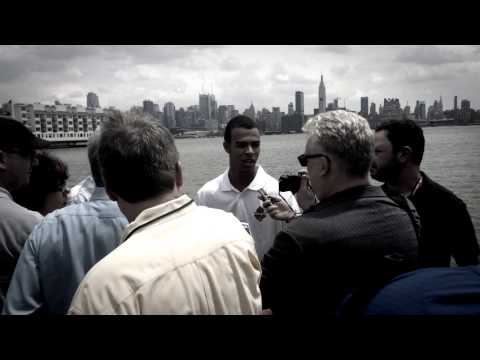 Following the media availability with the players, Leafs GM Dave Nonis met with the media in Short Hills, New Jersey where the team is staying leading up to the draft.
Nonis updated us on the status of pending free agent Tyler Bozak, the possibility of making a trade this weekend, the search for a new Marlies head coach and much more. Check out the video below.
Leafs TV was at both locations Friday and caught up with many of the top prospects that were there. Check out all the interviews below
Seth Jones

Nathan MacKinnon

Jonathan Drouin
Darnell Nurse
Sean Monahan
Hunter Shinkaruk
Alexander Barkov
Zach Fucale