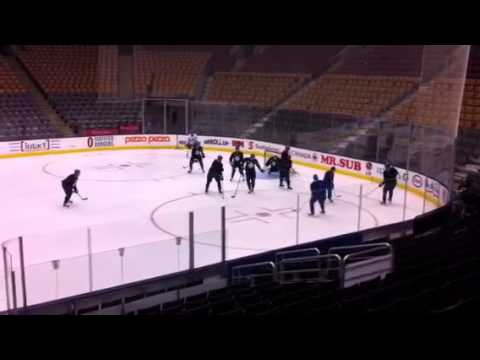 Maple Leafs forward Joffrey Lupul took part in full practice on Wednesday, the first time he has done so since he broke his forearm back on January 23rd against Pittsburgh.
Although he hasn't been cleared by doctors for a return just yet, he said once that happens he will be back in game action.
Head coach Randy Carlyle was asked about the #FreeJakeGardiner tweet which Gardiner's agent sent out following Tuesday's game.
"I don't live in the Twitter world," Carlyle said. "Jake has NHL quality skills, he's going to play in the NHL it's just a matter of when and it's our job to make sure the timing is right and that he is performing at a level that is too good for the American Hockey League and I haven't had anyone tell me that he has."
The Leafs forward lines and defence pairings looked this way during Wednesday's practice at Air Canada Centre:
Kessel-Bozak-van Riemsdyk
Kulemin-Grabovski-McClement/Lupul
Frattin-Kadri-MacArthur
Orr-Steckel/Komarov-McLaren
Phaneuf/Holzer
Kostka/Gunnarsson
Fraser/Franson
Liles/Komisarek
Take a look at the video following practice with Carlyle, Lupul, Korbinian Holzer plus Dallas Eakins and Jake Gardiner on #FreeJakeGardiner
Randy Carlyle

Joffrey Lupul

Korbinian Holzer

Dallas Eakins

Jake Gardiner