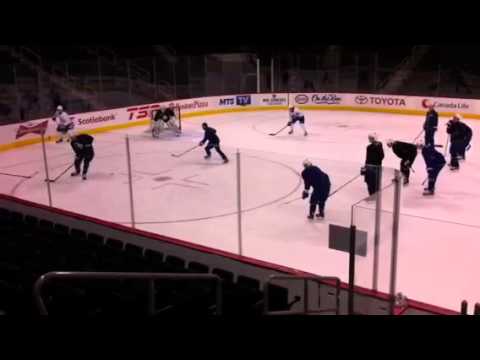 The Maple Leafs were in a great mood Friday as they practiced at the MTS Centre following the teams 3-2 win over Winnipeg before flying to Montreal for Saturday's game against the Canadiens.
The lines and defencemen pairings all remained the same as in the win over the Jets.
van Riemsdyk-Bozak-Kessel
Kulemin-Grabovski-McClement
MacArthur-Kadri-Frattin
Orr-Komarov-McLaren
Steckel-Brown
Holzer-Phaneuf
Liles-Kostka
Franson-Fraser
Gunnarsson-Komisarek
Defenceman Carl Gunnarsson and Mike Brown also took part in the hour-long skate.
Gunnarsson said that he is day-to-day at this point with his hip injury.
"Today was a good skate and  I tried to push myself not too far," Gunnarsson said. "We'll see how the body responds tomorrow, it might be good, it might be bad, it's tough to say,"  he said.
Take a look at all the post-practice video with Matt Frattin, Dion Phaneuf and John-Michael Liles.