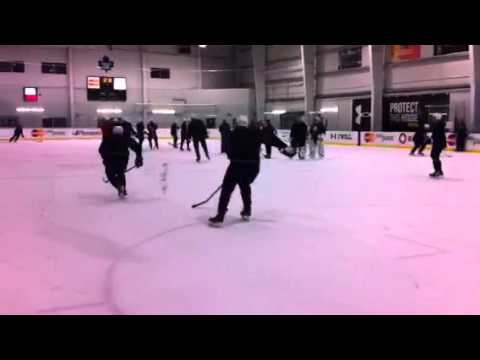 The Maple Leafs were back on the ice Monday for a conditiong practice as the Leafs with some new look lines as they prepare for Wednesday's home game against the Tampa Bay Lightning.
Colton Orr found himself on a line with Clarke MacArthur and Mikhail Grabovski while the fourth line consisted of Nikolai Kulemin, Jay McClement, Leo Komarov and Frazer McLaren.
After practice, Carlyle was asked about the new look lines but the coach doesn't want anyone reading too much into them.
"We are subject to change from day-to-day," Carlyle said.  "Because you practice with a group today doesn't mean you are necessarily going to play with them on Wednesday."
There were no changes on defence from Saturday's game as Carl Gunnarsson was paired with Dion Phaneuf; Korbinian Holzer & John-Michael Liles; Cody Franson & Mark Fraser with Mike Komisarek and Mike Kostka as the extra pairing.
Here are the forward lines:
Kessel-Bozak-van Riemsdyk
Lupul-Kadri-Frattin
MacArthur-Grabovski-Orr
Kulemin-McClement-Komarov/McLaren
Mikhail Grabovski was the centre of attention after not taking part in the shootout during Saturday's loss to Winnipeg.
"I was just thinking about winning the game." Grabovski said.
The Leafs forward was also asked if he is trying to live up to his contract and he had the quote of the year:
"I don't spend the money, my wife spends the money…sorry wife."
Check out post practice video with Carlyle, Grabovski, James Reimer, Nazem Kadri and Carl Gunnarsson.
Randy Carlyle

Mikhail Grabovski

James Reimer

Nazem Kadri

Carl Gunnarsson