The Leafs announced Wednesday that goalie Jussi Rynnas has been recalled from the Toronto Marlies of the American Hockey League.
This season, Rynnas has played 17 games and has a record of 8-8-1 with three shutouts and a 2.57 GAA and .913 SV%.
"He's a goaltender of the future for our hockey club, he's a big guy," Randy Carlyle said. "This goes to the strength of the organization when you have people perform in the American Hockey League level  and earn the opportunity to being recalled, we're not afraid to use him."
Following Wednesday's practice, Carlyle told the media that Matt Frattin will be out for the minimum of one week as he will be having a procedure on his surgically repaired knee.
"He had an issue with the MCL that was corrected and this is something that falired up and it's not something the doctors feel will be long term," Carlyle said. "He will have the procedure here in the next 24 hours and we'll see when he is back and made available to us."
Mike Brown who has been out of the lineup with a shoulder injury will be available for the game Thursday when the Leafs are Carolina.
With the injury to Frattin, here is how the Leafs lined up the forwards during practice:
van Riemsdyk-Bozak-Kessel
Kulemin-Grabovski-Komarov
McClement-Kadri-MacArthur
Orr-Steckel-McLaren/Brown
The Leafs as has been the case throughout the season worked on the powerplay during practice. Check out a bit of the powerplay drill below: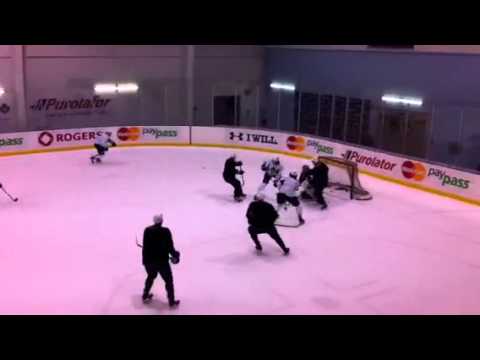 More to come including video with Carlyle and a few of the players.