The Kraft Hockeyville 2012 celebration in Stirling-Rawdon got off to a fun start Sunday afternoon with a parade to the Stirling & District Recreation Centre where tents were set up with activities for kids like rock climbing, slides, alumni signings, the Leafs Mobile Fan Zone and much more.
During the procession to the Stirling & District Recreation Centre there were bands playing, tractors, fire trucks and the Olympia ice cleaning machine.
Members of the community followed behind the parade including the Stirling Blues minor hockey team which you can see in the video below.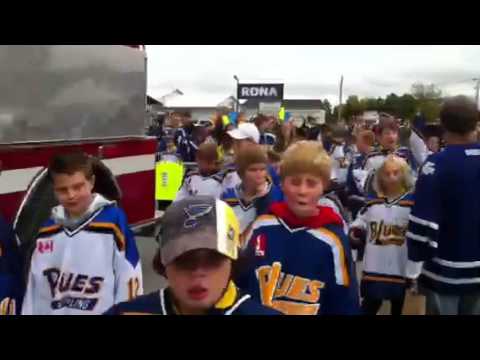 The Stirling rink was built in 1977 and has some great history as a few players have gone on to play in the NHL or be drafted into the league including former Buffalo Sabre Rob Ray. As winners of Kraft Hockeyville 2012, the arena will be getting a few upgrades. Take a look at the rink in the video below.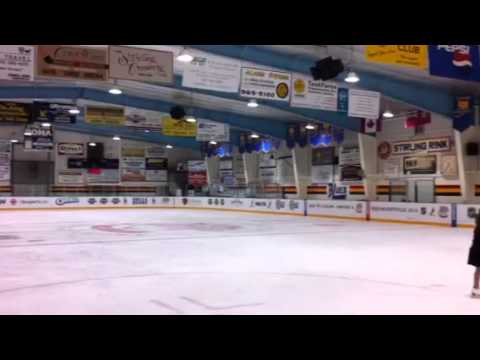 The Maple Leafs were represented at today's Kraft Hockeyville fair by alumni Brad Marsh and Laurie Boschman who signed autographs and greeted fans. The two are several of the Leafs alumni who will be playing in tonight's alumni game.
There can't be a Leafs event without the one and only Carlton The Bear in the house. Everyone's favourite mascot greeted his adoring fans as you can see in the photo below.
The town of Stirling-Rawdon is the smallest to ever win Kraft Hockeyville and that allows fans of a young age to get a chance to see a replica of the Maple Leafs dressing room with the Leafs Nation Mobile Fan Zone.

The excitement will continue tonight as an NHL alumni game will be taking place with former NHL players, local celebrities and more. We will check in with another blog following the game.