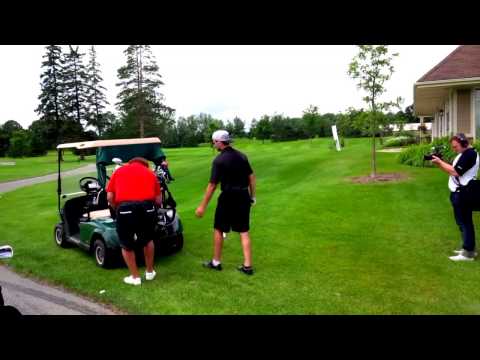 On a cloudy and rainy Sunday in Georgetown, Ontario, Nazem Kadri hit the links with over 140 golfers for the 3rd annual Nazem Kadri Golf Classic in support of Islamic Relief and SickKids Foundation's efforts to improve the care for children in Palestine.
Kadri  was happy to be on the course for the worthy cause.
"This is the third annual and each year it seems to get bigger and bigger," he said. "It's for Islamic Relief to help kids in third world countries who are less fortunate and this year we've teamed up the SickKids Foundation as well to help even more."
The Leafs forward flew back early Sunday morning as he attended Dion Phaneuf's wedding in Prince Edward Island on Saturday where a majority of current and former teammates took in the special day.
"It was a good turnout and even the guys who are no longer on the team were there," Kadri said. "It was nice to see them as well and it was a lot of fun."
Following a breakout season with the Maple Leafs that saw him rack up 44 points in 48 games he relaxed for a bit as he took a trip to Las Vegas but it has  been a steady dose of workouts as he prepares for the start of the 2013-14 season.
He is currently one of five Leafs restricted free agents (Cody Franson, Carl Gunnarsson, Mark Fraser and Joe Colborne the others) but he acknowledges that the team had more urgent signings to make when free agency began on Friday.
"We're in talks right now but the UFAs were the ones that we needed to seal the deal," he said.
There has been quite a few changes to the Leafs roster since the Game 7 loss to the Boston Bruins and Kadri is looking forward to what the new additions will bring to the lineup not only on the ice but off the ice as well for the young Leafs team.
"They are two great players, reliable guys," Kadri said of Dave Bolland and David Clarkson. "They've been around for a while so their experience is a huge bonus and I'm sure they're going to be a great asset to our team."
When the Leafs bought out the contract of centre Mikhail Grabovski, for many it opened the door for Kadri to be the teams second line centre when training camp opens in September and possibly play on a line with Clarkson.
"He's a big body, draws a lot of attention around the net and he was also a 30-goal scorer in the NHL so he can put the puck in the back of the net." "It will be a nice fit."
Just over two months before Kadri and the rest of the Leafs hit the ice for training camp!