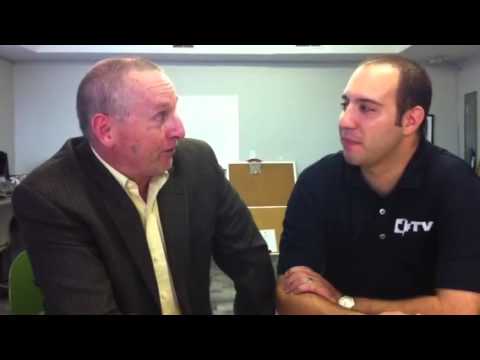 Maple Leafs General Manager Brian Burke agrees there was interference with goaltending consultant Francois Allaire but said the pressure came in an attempt to spur a revamp of Allaire's techniques.
"I regret that I have to deal with this matter publicly but I feel the need to respond. Was there interference from the staff as he said there was? Yes. But it was done reluctantly and it was done to change elements of our goaltending that was sub-par."
Burke, who hired Allaire away from his former team in Anaheim three years ago, said Allaire wasn't going to be asked back after the club finished 29th in goals against with a bloated 3.16 average. That's 1.26 goals a game higher than the St. Louis Blues' league-leading total. The Leafs finished 24th and 29th in goals against in Allaire's two other seasons.
In an interview with The National Post Monday, Allaire told reporter Michael Traikos that he decided to leave the team because of internal interference with his methods. "I didn't feel like I could do my job," he said. While he did not furnish any names, the remarks fuelled speculation that the interference came from either coach Ron Wilson, who was fired last March, or his assistants, Scott Gordon, a one-time NCAA and NHL goalie, and Greg Cronin. Gordon and Cronin were retained by current coach Randy Carlyle.
The Leafs GM said Allaire's comments forced him to step away from his long-standing policy of never criticizing a current or past member of his staff and offered his trademark good wishes and thanks.
Burke, who steadfastly defended Allaire throughout media calls for his ouster, then shredded the job delivered by the most famous goalie coach in the sport.
Allaire's approach with his goalies, Burke said, hadn't altered even though rule changes meant his insistence on the butterfly technique wasn't working.
"The position has evolved in the last three to five years," Burke said.  Nobody plays the classic stand-up any more either. Everything advances."
Rules to minimize obstruction and limit goaltending equipment prompted the evolution of hybrid goalies who retain the solid elements of the butterfly by striving to be square to the shooter and rotating with pads down and body erect during scrums.  Hybrid goalies usually stay on their feet longer and use their hands to snare pucks rather than chance rebounds. Jonathan Quick of the Stanley Cup champion Los Angeles Kings and franchise goalies such as the Rangers Henrik Lundqvist, Dallas goalie Kari Lehtonen and Nashville's Pekka Rinne are considered hybrid goalies.
Burke said he expected to name a successor within a matter of days.
Certainly, Burke's goalies have stayed true to the longstanding code of never criticizing coaches.
Despite rave reviews in Sweden, goalie Jonas Gustavsson struggled under Allaire. But Gustavsson, who signed with Detroit as a free agent in July, steadfastly defended his coaching.  Incumbent James Reimer enjoyed an excellent half season under Allaire in 2009-2010 but the deterioration of his play was written off as the results of a head-hit in his sixth game. He credits Allaire with getting him into the NHL.
Allaire devised his technique working with Patrick Roy in Montreal from the mid 1980s to mid 1990s. That partnership yielded a pair of Stanley Cups.  Allaire coached Jean-Sebastien Giguere when he captured the Conn Smythe Trophy in 2003. Giguere was in goal and coached by Allaire when the Ducks won the Stanley Cup under Burke in 2007 but Giguere struggled in his second season when reunited with Allaire in Toronto. He rebounded last season in Colorado.