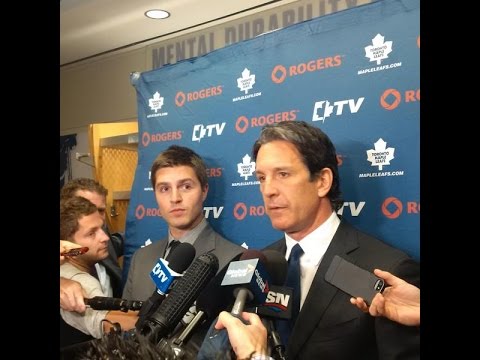 Sault Ste Marie's contributions to hockey have been legendary.
Phil and Tony Esposito headline a long list of players who've made their mark over time. The management side has produced true builders of the game in Lou Nanne, Gene Ubriaco and Angelo Bumbacco.
The Leafs hiring of the Sault's Kyle Dubas is an extension of that managerial lineage.
At age 28 the new assistant general manager maybe young but he's been around the game his entire life.
His late grandfather Walter Dubas was head coach of the Greyhounds in the 1960's.
A proverbial rink rat, Kyle got his break from Craig Hartsburg when he was 16. The then head coach of the Greyhounds hired the eager youngster to help in the equipment room.
But drive and smarts eventually saw Dubas moved into hockey operations for the team.
Credit Hartsburg for discovering this future organizational whizz and launching a passion within Dubas for hockey management.
Dubas would graduate from St. Basil's High School to attend Brock University in St. Catharines but he never left the Hounds.
While majoring in sports management (Deans list honours) Dubas also scouted for the club in his four years in southern Ontario. That preceeded a five year term as a player agent further honing his knowledge for that side of the business.
He was a natural choice to take over as the Soo's general manager three years ago becoming the second youngest GM in OHL history.
That trend now continues in Toronto giving the Leafs its youngest member of management since Gord Stellick in 1989.
Says Dubas " I don't have a set timeline for what I want to accomplish. I just want to learn as much as I can and get better everyday. "
It should only be a matter of time before this former Greyhound gets up to speed.